Lisa Irish embraces life. She has journeyed through loss and discovered the great gift that life offers each of us. This Little Light's mission is to let one more light shine to support fellow sojourners on the path. In the words of Marianne Williamson,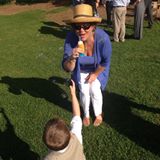 "We are all meant to shine, as children do. We were born to make manifest the glory of God that is within us. It's not just in some of us; it's in everyone."

Lisa's independent ministry has grown in response to requests and invitations from others partnered with a passionate desire to bring Love into the world. Her professional experience has provided a rich resource for learning, while offering the opportunity to minister to others. Lisa served as a hospital chaplain for both the Hospital of St Raphael and Yale-New Haven Hospital. Her ministry included long term care, acute care and coordinating a Bereavement Program for the Department of Spiritual Care. She was a Campus Minister for St Thomas Aquinas Community at the University of Connecticut and an Adjunct Professor in Religious Studies at St Joseph College in West Hartford, CT. Other ministries include teacher and Campus Minister at the high school level plus various consultant and leadership roles for area churches and diocesan programs.
Master of Education, University of Massachusetts 1979, where she came to respect the process of learning and to use creative techniques in sharing ideas.

Masters in Theology, St. Bernard's Institute 1992, brought Catholic Christian understanding to her very personal experience of the Divine. Graduate testimonial: www.stbernards.edu

Clinical Pastoral Education, Hospital of St Raphael 2003, training for ministry as a Chaplain, provided Lisa with tools for authentic and intimate spiritual care of others.

Board certification with the National Association of Catholic Chaplains, since 2005, confirms her commitment to professional standards.

Spiritual Direction and Retreat Training, Mercy Center 2007/09, instilled an appreciation of the delicate nature of presence while accompanying another.

As a Mercy Associate, since 2003, Lisa values both the Mercy community and the teachings of Catherine McAuley, "We should be as a shining lamp, giving light to all around us."

Shop Talk Show

Lisa has been married for over 40 years to Jim Irish. Their life together has sustained her personal journey while teaching her about the great gift of committed love. She and Jim share a life of joy, respect and tenderness that has also created two remarkable sons, Jared and Paul. Lisa describes her family as the greatest gift in her life and continues to celebrate each moment along the way.

In May of 2014, the Irishes welcomed Paul's delightful new wife, Shaila, into the grand adventure of family love.