The mission of This little Light is to offer light for the journey. The written word, one source of light, can be a helpful tool for those facing challenges or navigating the endless invitations of the inner life. Lisa hopes her desire to listen deeply and her love of writing will combine to provide a resource for others.

Her first publication, "Grieving with a Grateful Heart," is an inspirational pamphlet published by Abbey Press www.onecaringplace.com

"Gratitude has long been an important element of the spiritual journey. When we open our hearts to gratitude, we move closer to love and closer to the source of love. This CareNote, "Grieving with a Grateful Heart" was written for those who face loss and are seeking a connection with their loved one. It is my hope it provides a point of view and tangible suggestions that support healing from the pain of loss."

A second CareNote, "Feeling Alone After a Loved One Dies," names the emptiness loss creates, while offering realistic and thoughtful suggestions for navigating this lonely time.

As a contributing author to "Open to Hope", an online grief support forum, Lisa is joining others to write about loss and grief.  "Open to Hope's" mission is to help people find hope after loss, through reading, writing and sharing stories. www.opentohope.com/author/lisaannirish/

Niagara Hospice Bereavement Services included one of Lisa's articles in their Bridges Newsletter. The article, "Responding to Loss: Moving on, Moving Forward, Moving In" has also been reprinted in the Proko-Wall Funeral Home newsletter, Tomorrow.

"Unraveling Loss - a Guide to Conscious Grieving," is a work in progress. It is a self-help book for those who are grieving that combines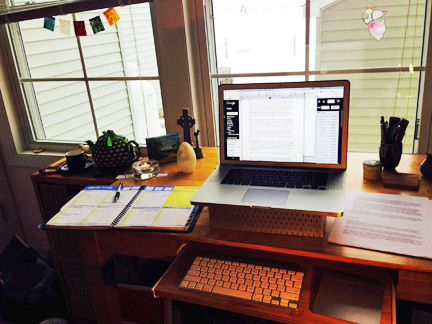 memoir, stories and tangible suggestions to untangle the complex experience of loss and grief. "Dancing with the Moon - invitations, reminders and kisses," is in the very early stages of creation. It seeks to share a glimpse of wisdom that is found when one really listens to the voice of Love. This Little Light's writing ministry also includes a monthly "Glimmers" to inspire fellow sojourners, reminding all of God's infinite Love.